Le Gruyère AOP matured 250 metres beneath the mountain
At Gourmino SA in the Bernese Oberland, some of the wheels of Le Gruyère AOP cheese are matured in cellars up to 250 metres underneath the mountain. To get there, you have to follow a narrow road along a small river, the Kiene. The reason why the place is not easy to find is that these maturing cellars are former bunkers built in the 1950s where ammunition was stored.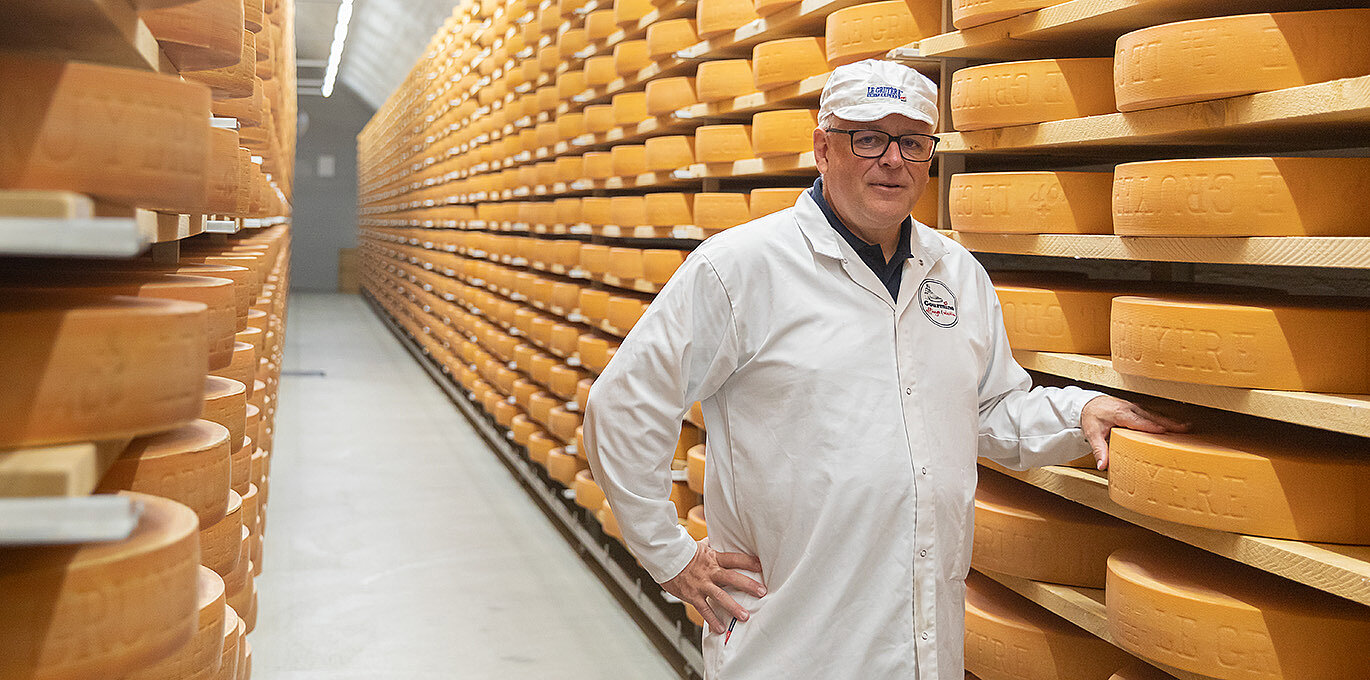 "Trust and close collaboration with the cheesemakers are essential"

Roland Sahli, director of Gourmino SA
In 2015, the army decided to sell its military forts. Gourmino SA bought four tunnels and transformed them into maturing warehouses, with differentiated climate zones. Two years later, the cellars were ready. To start with, 200 wheels of Emmental and 300 wheels of Le Gruyère AOP had to be put in to provide the necessary flora to rub the cheeses. The quality was there from the start.
These underground cellars allow for a very ecological maturing process, in harmony with nature. "The mountain acts as a protection, both in terms of temperature and humidity," explains Roland Sahli, director of Gourmino SA. "The variations are small, only a few degrees. However, air conditioning is important, otherwise we would be taking a lot of risks in terms of quality."
The company has carried out various tests to compare the batches of cheese matured in the cellars under the mountain with those in its other concrete cellar in Langnau. For Le Gruyère AOP, the difference is minimal. Maturing at 250 metres underground is an undeniable economic and environmental advantage.
Gourmino has been in existence for 20 years. The company was originally founded by five cheesemakers who produced Emmentaler AOP in eastern Switzerland. They sold their cheeses directly from their cheese dairy. Then they acquired their first cellar in Langnau and turned to the export market. They then started maturing Le Gruyère AOP, which has grown in importance over the years. Today, they mature 6,400 wheels of Le Gruyère AOP in the underground cellars in Reichenbach and 4,000 wheels in Langnau. This means that Gourmino is the smallest cheese ripener of Le Gruyère AOP.
Gourmino sells cheese in 25 countries, including the United States, Sweden and Germany. The company focuses mainly on specialised shops through importers and distributors. It focuses on Le Gruyère AOP matured for 12 to 24 months. It attaches great importance to selection, based on experience, observation of the cheese and communication with the cheesemaker. "Trust and close collaboration with the cheesemakers are essential," says Sahli. "When we go to pick up the cheese wheels, we discuss the day's production with the cheesemakers. They inform us whether they have had a problem with certain milks."
Roland Sahli was one of the first Swiss appraisers to participate in international competitions 23 years ago. He was at the last World Championship Cheese Contest in Madison, Wisconsin, when Michael Spycher's Le Gruyère AOP was crowned the best cheese in the world.
Mr Sahli obviously has a very fine palate. However, during his apprenticeship he had an accident with acid which caused him to no longer taste bitterness. He had to learn again how to regain this taste, not on the tongue like everyone else, but on the palate. As a result, he recovered his skills and practised a great deal to further refine the abilities that are indispensable in his role as an appraiser, which he clearly succeeded in doing.
"In Madison, on the first day, we had four categories, ranging from 30 to 60 wheels per category, which is about 100 to 150 cheeses. That was the maximum possible. You don't eat, you taste. The judging is done like this: we start with 100 points and look for defects. My colleague and I always do the same thing: we take the three best cheeses and compare them. This is not stipulated in the rules, but we think it is important to do so. Surprisingly, the results are always the same."