A wonderful reward for the Gruyère d'Alpage AOP from Vacheresse, in the commune of Bas-Intyamon
In the category Le Gruyère d'Alpage AOP, the Swiss Cheese Awards this year honoured a cheese produced by Maurice Bapst, who has been a tenant of the Vacheresse mountain pasture situated above Estavannens and below the Dent de Bourgo for 39 years. This prize was a real surprise for Maurice and his wife Françoise. Portrait of this couple who, in winter, lives in La Roche and produce milk for the local dairy company.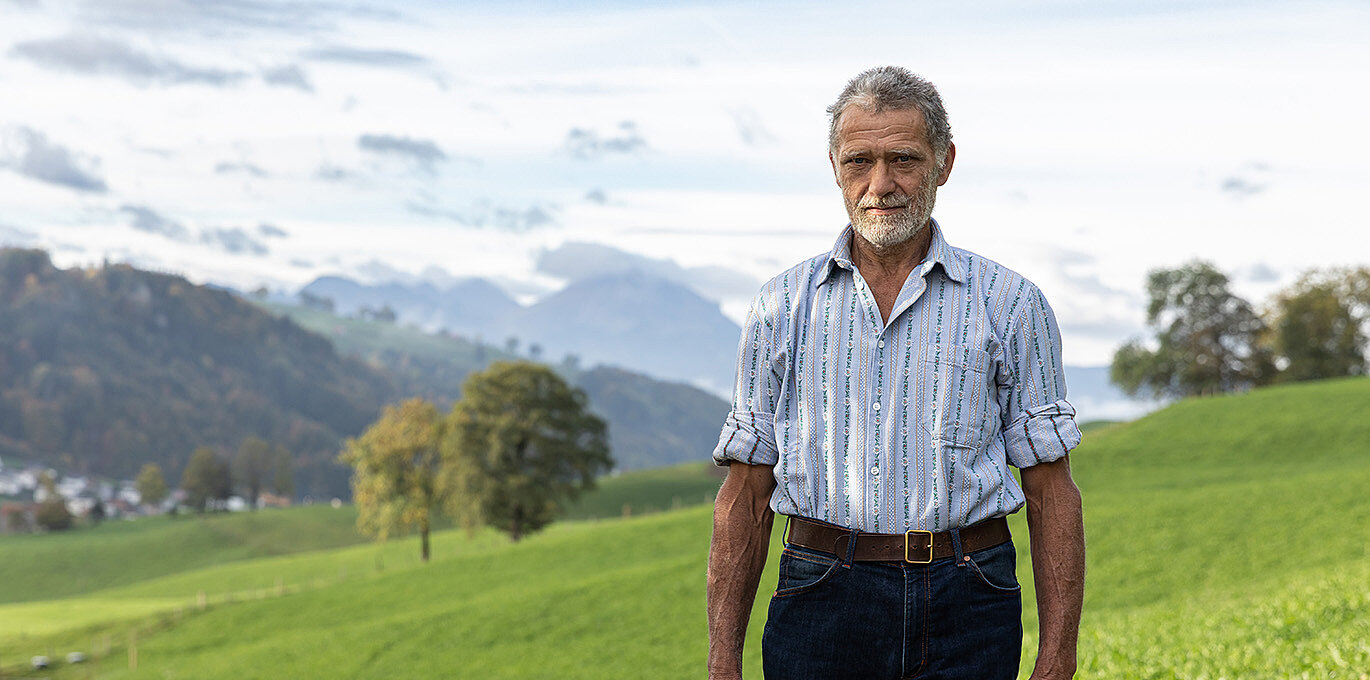 "It's not every day that we receive such a reward for the hard work we put in throughout the season."

Maurice Bapst, cheese maker at the Vacheresse mountain pasture
"I have been going up to the mountain pasture every summer for 54 years. I was 9 years old the first time. And I've been there for 40 years with my wife François". Maurice Bapst loves the mountains and these seasons spent looking after the livestock and making cheese. So much so that Françoise likes to say, in jest: "My husband is married to the mountains!" Nevertheless, the 2022 season on the mountain pasture was rather difficult. With the drought in the second half of the season, in addition to all the ordinary work to be done, it was necessary to fetch water. "With my 40 cows, 65 heifers and 200 sheep, I had to bring up 6,000 litres of water every day. Fortunately there was the Liti pond, not too far away!"
Maurice and Françoise go up to Vacheresse, from Motélon, in three stages. First, they climb to La Foreyre (1169 metres) and stay there for a fortnight. Then, they stay again for a fortnight at Le Liti, at 1575 m., before spending most of the season in Vacheresse at 1750 metres. From there, they enjoy a superb view of the Pre-Alps and the Intyamon. Every morning, the couple gets up at 5:30 a.m. to milk the cows and make the cheese. Françoise and Maurice make more than 5,000 kg of Le Gruyère d'Alpage AOP each season as well as 1,600 kg of Vacherin AOP Alpage. In their 600-litre vat, they produce two wheels of Gruyère each day, weighing between 25 and 27 kg. "It's a lot of work and you have to be well organised," says Maurice Bapst. "First we make the fire. Then we bring the milk to the right temperature. It has to be done neither too fast nor too slow. It's not always easy to produce well, because the conditions change a little every day. For example, we have to manage the dosage of the wood we use for the fire." Françoise Bapst adds: "We try to do our best, to ensure good quality every day. Every morning, for example, we monitor the acidity."
It is precisely this high quality that enabled the cheese produced by Maurice and Françoise Bapst to be crowned best Le Gruyère d'Alpage AOP at the Swiss Cheese Awards 2022. It was a complete surprise for the couple from Gruyère. "We didn't even know that one of our cheeses was competing", Maurice Bapst laughs. "They chose one of my cheeses from the 'Coopérative fribourgeoise des producteurs de fromage d'alpage'. Every year they send five or six cheeses and this time there was one of mine. It was produced in August 2021, so it was just over a year old. When we received the telephone call saying that our cheese had won the competition, I was very surprised as I didn't know about it at all!" The Bapsts could have entered themselves, but this year the competition was taking place just at the time of the désalpe, "We thought we wouldn't have time to go up to Le Châble," smiles Françoise. "So we gave up. But when we got the telephone call, we still found a way to go to Valais! It's not every day that we receive such a reward for the hard work we put in throughout the season."