Le Gruyère AOP Gratin
20'
30'
When I was about to propose a variant of Le Gruyère AOP version of the tartiflette, like the Gruyèriflette, I discovered that the word tartiflette means potato in the Savoyard dialect...
My culinary impertinence risked offending the sensibilities of our dear Savoyard neighbours, so I preferred to settle for a simple, more Gruyèrian interpretation.
All the more so because even if Le Gruyère AOP has never been Savoyard, there is still a very long history of trade between the Gruyèrians and their neighbours on the other side of the lake!
And after all, isn't it strange that this magnificent tartiflette recipe was only invented in 1980!
In short, all this is a joyful mixture of a tradition that is certainly Valdotan, where the word "Péla" has appeared for a very long time in our old cookbooks, as old as the time when Swiss cheese families, having too many mouths to feed, sent legions of cheesemakers to colonise territories further away than their native Gruyères...
However, I take the liberty of writing this because I know that Savoyards have a sense of humour!
Enjoy!
Philippe Ligron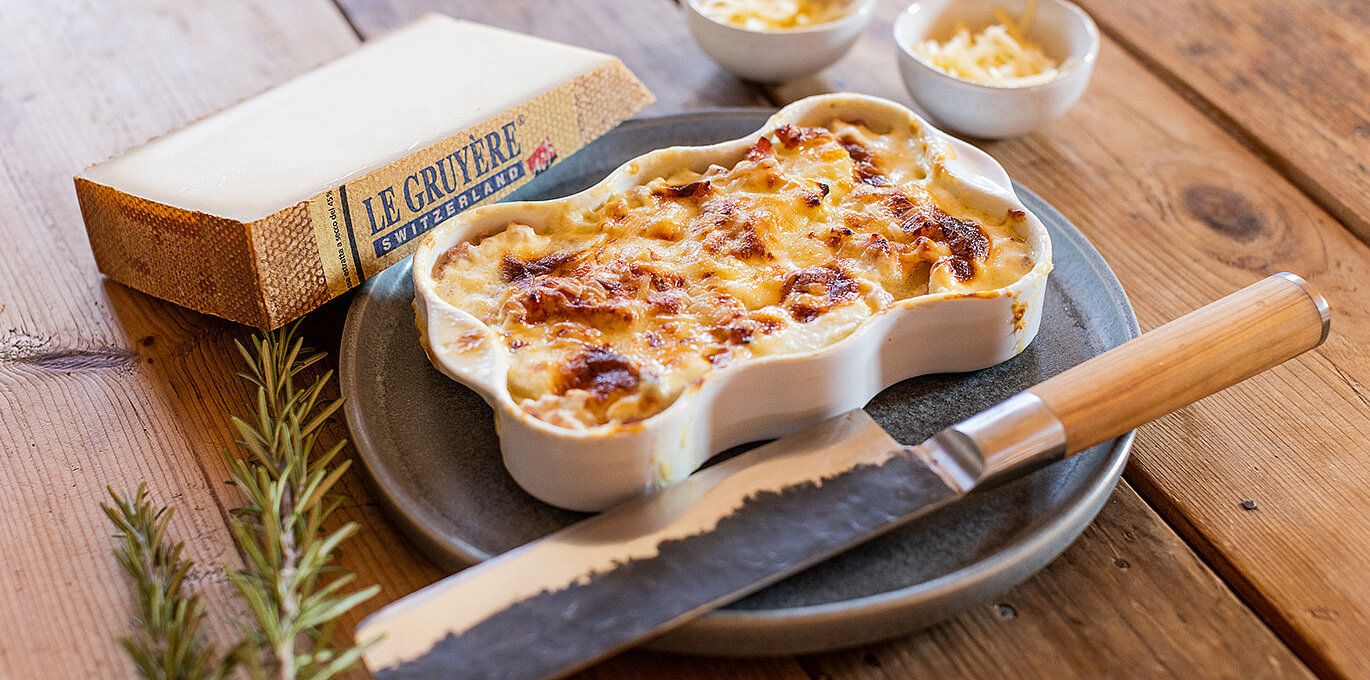 Ingredients for
Note
Attention changement nombre de personnes
Le Gruyère AOP Gratin
150 g

Gruyère AOP grated

50 g

onion

1 dl

white wine

300 g

potato

100 g

smoked bacon

1 tsp

butter

2 tbsp

35% cream

1 pinch

of salt

1 pinch

of pepper

20 g

of flat leaf parsley, finely chopped
Preparation
Le Gruyère AOP Gratin
Peel and cook the potatoes in boiling salted water.
Drain when fully cooked and set aside.
Peel and finely chop the onions.
Sauté the onions in a buttered frying pan, set aside.
Do the same with the bacon, set aside.
Place half of the candied onions in the bottom of a buttered oven dish, add the bacon. Arrange the sliced potatoes on top, and then spread the rest of the onions and bacon.
Cover with a little grated Le Gruyère AOP cheese and add the cream. Finish with the remaining grated Le Gruyère AOP.
Add a little pepper but do not add salt.
Bake for about 30 minutes at 180°C until the gratin is golden brown and Le Gruyère AOP cheese has melted.
At the end of the cooking time, don't hesitate to put the oven on the grill position to brown the gratin.