Le Gruyère AOP Vinzel beignets and balsamic coulis
25'
5'
What a pleasure it is for me to present to you my version of this emblematic recipe from the French-speaking part of Switzerland and more precisely from the Vaud region!
If there is one recipe that represents this beautiful canton, it is these Vinzel beignets (fritters). But then, what's the point, you might ask, of telling you for the umpteenth time the popular legend of the origin of this dish? Indeed, this recipe is said to have been developed by Swiss soldiers serving in the French and English armies during the Crimean War from 1853 to 1856. To pass the time, during the very long siege of the city of Sebastopol, proudly defended by Fort Malakoff, they improvised themselves as cooks by frying small pieces of cheese with bread. Some people say that the story is more of a legend because there was no cheese in their wartime ration. However, family parcels or local pillage could have made this possible. We will never really know.
On the other hand, what we sometimes tend to forget is that this recipe was developed at the villa Prangins for Prince Jérôme Bonaparte, by the Larpin family who then opened an inn in Eysins. It is noted that between 1880 and 1891 a young couple from Bursins, Jules and Ida Larpin, were in the service of Prince Jérôme Bonaparte, known as Prince Napoléon, at the Villa Prangins. Prince Napoleon organised a reception attended by veterans of the Crimean War. In order to pay tribute to them as was appropriate at the time, Mrs. Larpin, a chef at heart, and at the request of the prince, proposed a lighter and more sophisticated version; in the form of a slice of Le Gruyère AOP coated with batter and cooked in butter.
After the death of Prince Napoleon in 1891, and in view of the success of her recipe, she had the idea of passing it on to her cousins Rose and Alfred Larpin, who were then the owners of the Eysins Inn. The recipe became the main dish of the inn, but it had to be lightened up, and frying oil replaced the butter used for cooking.
Usually, Vinzel's beignets are served with salad, gherkins, small onions and mustard. In this version, I offer you a more exotic accompaniment with some balsamic. I don't dare offer it with Bénichon mustard yet ;).
Finally, don't be surprised to discover my Malakoffs in the shape of sticks. Indeed, it seems that this was the original shape. The half-sphere shape would be typical of the Vinzel beignets.
Enjoy!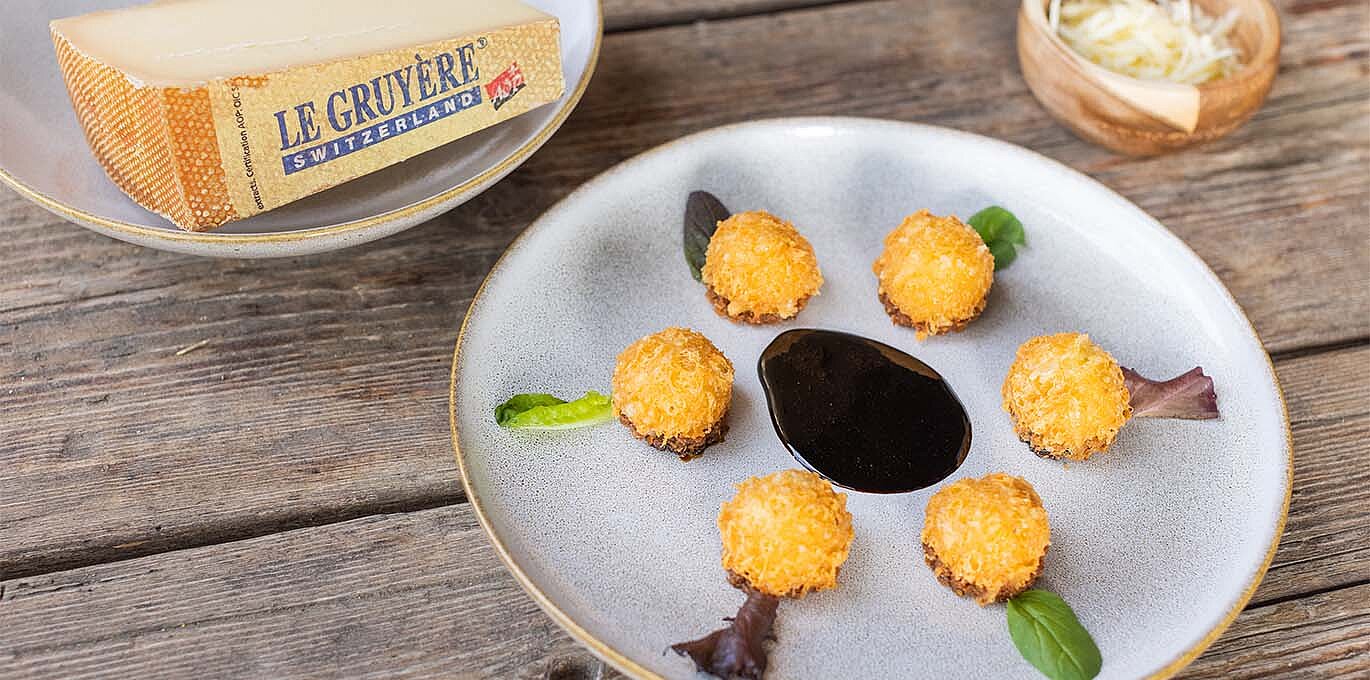 Ingredients for
Note
Attention changement nombre de personnes
Balsamic coulis
100 ml

of black balsamic vinegar

20 g

of liquid honey

+

salt and pepper

1 bunch

aromatic herbs, chopped (flat leaf parsley, thyme, garlic...)
Vinzel beignets
300 g

Gruyère AOP

50 g

all purpose flour

2

whole eggs

10 g

clove of garlic, minced

1 pinch

freshly grated nutmeg

2 cup

kirsch

1 knife tip

bicarbonate of soda

8 slices

of dry bread
Preparation
Balsamic coulis
Reduce the balsamic vinegar to 3/4.
Allow to cool and add the honey.
Check the seasoning and set aside.
Vinzel beignets
Mix all ingredients in a bowl.
Spread the mixture evenly over the bread slices in a domed shape using a spoon. You can also use an ice cream scoop, but make sure that the mixture sticks to the toast.
Fill your deep fryer and heat to 180°C or fry the cheese fritters in hot oil, bread side down. Turn over after 2 minutes, fry for another 2 or 3 minutes. Drain on a paper towel.
Arrange the beignets harmoniously on the coulis or over the sauce in a saucepan.
Delicious to know
Prepare your coulis in advance; this will relieve you on the day.