Tempura with Le Gruyère AOP
20'
3'
Did you know that tempura has a rather original life journey? Indeed, in our gastronomic history, most of our foods and know-how come either from the west via the conquistadors during the Renaissance or from the east via the spice and silk route. In the case of tempura, we are witnessing a journey in the opposite direction. In fact, tempura is said to be a Japanese interpretation of the Portuguese "Peixinhos da horta" imported into the Land of the Rising Sun. What does this have to do with Portugal? Portuguese Jesuit missionaries in the 17th century are said to have imported this mixture. The Japanese people, epicureans at heart, then adapted these tempuras to their taste by lightening the batter and eating them on skewers. It was not until much later, to our great delight, that the first restaurants specialising in tempura appeared.
I like this recipe not only because it is delicious, but also because it allows us to use all those bits of vegetables that we collect in our refrigerators; preparing them in tempura gives them back their credentials and crunch. Here is a recipe I suggest, not with vegetables, but with Le Gruyère AOP!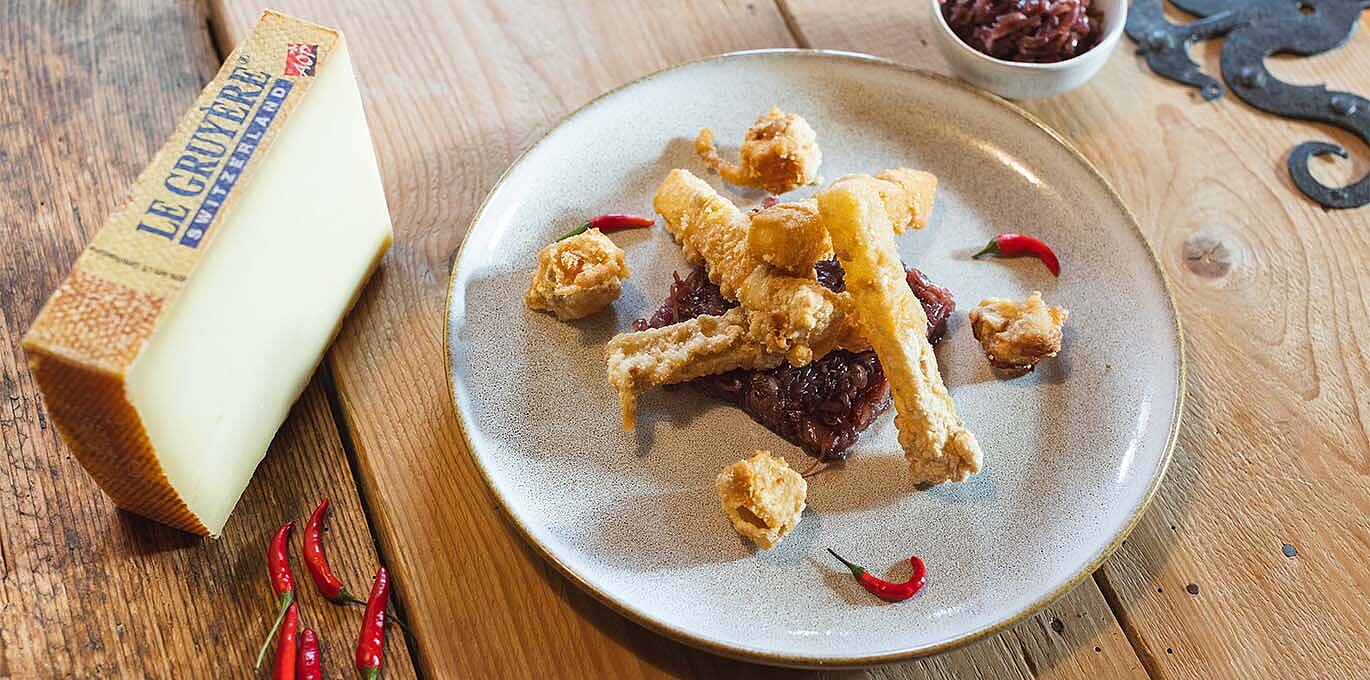 Ingredients for
Note
Attention changement nombre de personnes
Le Gruyère AOP with shallot chutney
160 g

Gruyère AOP

150 g

shallots

0.5 dl

red wine

10 g

sugar

0.5 dl

vegetable stock

1 tsp

of red wine vinegar

+

salt and pepper
Tempura
120 g

of rice flour

60 ml

of beer

60 ml

water

1

egg yolk

1 l

of frying oil
Sauce
0.5 dl

of fish stock

2 tbsp

of peanut butter

100 g

of roasted peanuts

1.5 dl

vegetable stock

0.5

clove of garlic

1 pinch

of chili pepper
Preparation
Le Gruyère AOP with shallot chutney
The day before, sauté the shallots in a little fat, add sugar and caramelise them.
Deglaze with red wine and wine vinegar, reduce to a dry consistency.
Moisten with the vegetable stock and let simmer.
Season and let cool.
Cut the Le Gruyère AOP into sticks or any other shape you like. Mix them into the onion chutney and leave to marinate in a cool place.
Tempura
On the same day, prepare the batter by mixing the flour with the water and beer. Add the egg yolk. The dough should have a medium liquid consistency
Set aside in the refrigerator for 2 hours.
Cover each piece of Le Gruyère AOP by dipping it into the batter.
Fry for a few minutes until the tempuras are golden brown.
Sauce
Finely chop the garlic.
Melt the peanut butter, add the garlic.
Add the coarsely chopped peanuts.
Add the vegetable stock and chili pepper.
Adjust the seasoning as needed.
Delicious to know
Use a Le Gruyère AOP cheese that is not too young so that it will cook better.