Breaded Le Gruyère AOP Croquettes
10'
5'
It is said that life is an eternal renewel, and the history of croquettes is a clear reflection of this!
Indeed, croquettes have existed since the dawn of time. They make it possible to use all sorts of small quantities of ingredients that we would not otherwise use. Throughout the ages, cooks from Switzerland to Japan have always been concerned with avoiding food waste.
This has not really been the case in recent decades... In Switzerland up to 37% of our food purchases are wasted...
Even if cheese and especially Le Gruyère AOP are not really part of this calculation, it is always interesting to value the little bits of Le Gruyère AOP that we may have left over and then...
What could be better than preparing a meal together and spending some pleasant moments of friendship and, above all, of humanity!
Enjoy your meal!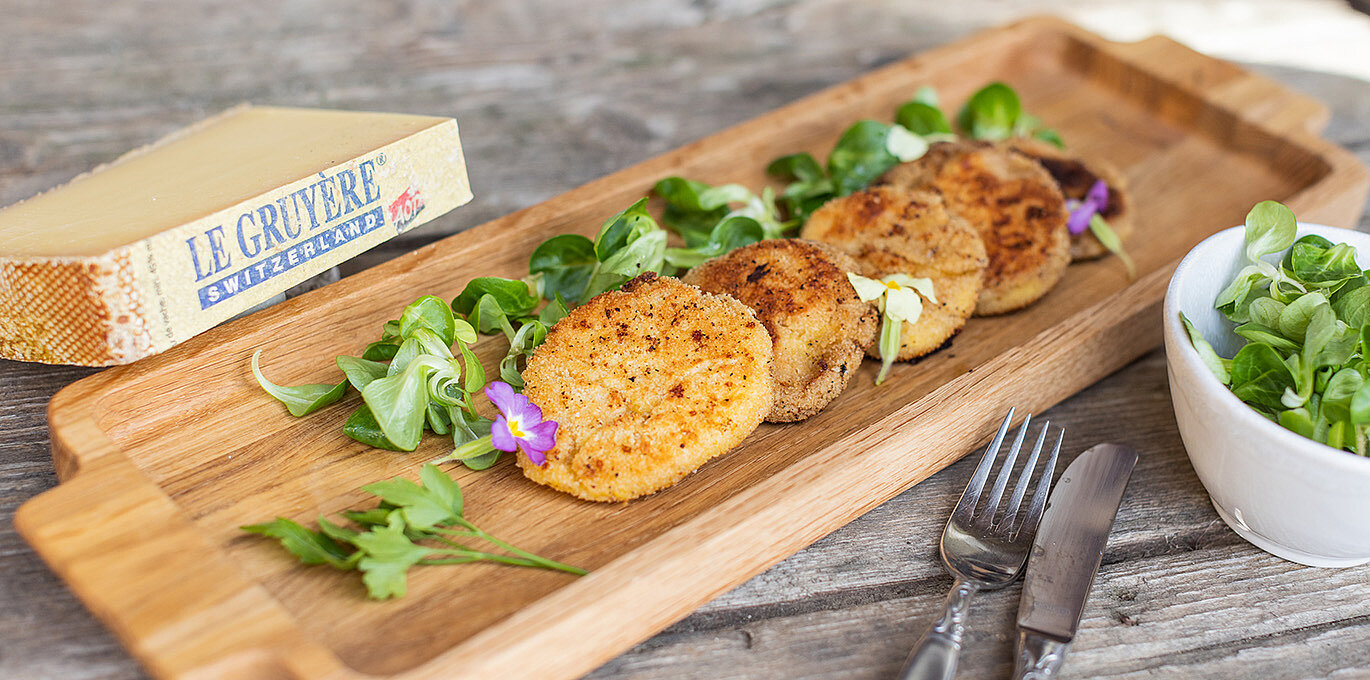 Ingredients for
Note
Attention changement nombre de personnes
Breaded Le Gruyère AOP Croquettes
150 g

Le Gruyère – aged minimum 11 months

100 g

Flour 1

0.5 dl

milk

100 g

butter

100 g

Flour 2

1

egg yolk

100 g

breadcrumbs

100 ml

cooking oil

1 pinches

salt
Preparation
Breaded Le Gruyère AOP Croquettes
Make a roux by melting the butter in a saucepan and adding the flour 1, cook over medium heat.
Add the milk and whisk until you have a thick béchamel sauce.
Stir in the grated Gruyere cheese and allow to cool.
Remove from heat, add egg yolks, flour 2, salt and pepper and mix well.
Allow to cool completely.
Spoon out walnut-sized portions of the mixture and place them in the breadcrumbs.
Shape into nice regular shapes as desired.
Heat a little oil in a pan.
Cook the croquettes for a few minutes, stirring well, until golden brown.
Be careful, as they burn very quickly. Personally, I add a little butter to prevent the temperature from rising too quickly. It should not burn.
Drain the croquettes on paper towels.
Serve hot.