Cream of pumpkin soup with Gruyère AOP and garlic croutons
30'
15'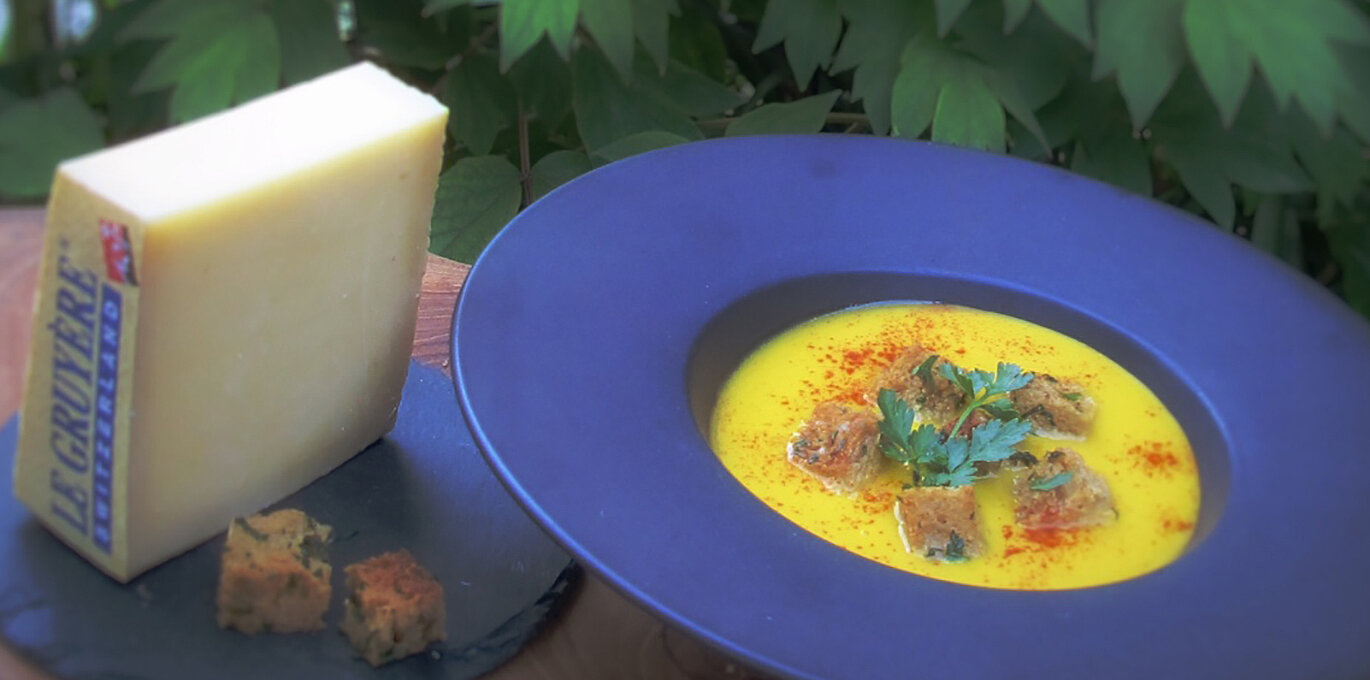 Ingredients for
Note
Attention changement nombre de personnes
For the cream of pumpkin soup
1 kg

pumpkin

1

onion

30 g

butter

500 g

chicken stock

40 g

milk

20 g

single cream

200 g

Gruyère AOP grated

+

salt and pepper
For the garlic croutons
200 g

bread

2

garlic cloves

30 g

olive oil

1 sprig

of flat leaf parsley, finely chopped

+

salt and pepper
Preparation
For the cream of pumpkin soup
Cut the pumpkin in half and scoop out the seeds using a spoon.
Cut each half of the pumpkin in half again. Remove the skin, cut the flesh into cubes and finely chop the onion.
Melt the butter in a large saucepan and sweat the onion until translucent.
Add the pumpkin and the chicken stock and season
Bring to the boil, then reduce the temperature to a simmer and, stirring occasionally, cook until the pumpkin is tender (about 15 minutes).
Blend the soup, stir in the milk and keep warm.
For the garlic croutons
Cut the bread into cubes, peel the garlic clove and cut in two to remove the germ.
Heat the oil and salt in a frying pan and add the garlic pieces. Fry gently for 5 minutes, taking care it doesn't colour and become bitter.
Remove the garlic pieces before frying the cubes of bread on a medium heat in the flavoured oil. Stir them often to ensure they are evenly toasted.
As soon as the croutons are a nice golden brown, take them off the heat and sprinkle with the finely chopped parsley.
Reheat the soup, then add the single cream and the grated Gruyère AOP.
Stir gently for 2 to 3 minutes until the cheese has melted.
Check and adjust the seasoning.
Sprinkle the soup with the garlic croutons just before serving.
Delicious to know
Don't forget to warm up your serving bowls 8 to 10 minutes before the soup is to be served. Replace the garlic croutons with gingerbread croutons.