Fregola Sarda with Le Gruyère AOP and pesto
10'
25'
Fregola Sarda, the pearl among the pasta varieties and a must in every larder. To this day, this pasta has been produced in Sardinia by hand according to traditional methods. The pasta dough also consists of (durum wheat) semolina, but no egg is used in the dough. It is rolled into peppercorn-sized little balls in clay bowls and not dried like other pasta types, but rather roasted in the oven. This is where the typically fine roasted aromas of Fregola Sarda arise. The name Fregola is derived from the word 'Ferculum', which also means crumbs in Latin.
The little roasted balls are ideally suited as normal pasta dishes with fish and meat, or else as 'pasta risotto' as in this recipe here. You simply replace the risotto rice with Fregola Sarda and cook it 1:1 as if you were preparing the meal with rice. This gives the dish a nice creamy consistency, while a freshly made Le Gruyère AOP pesto adds a spicy herbal note. Bellissimo e Buon Appetito!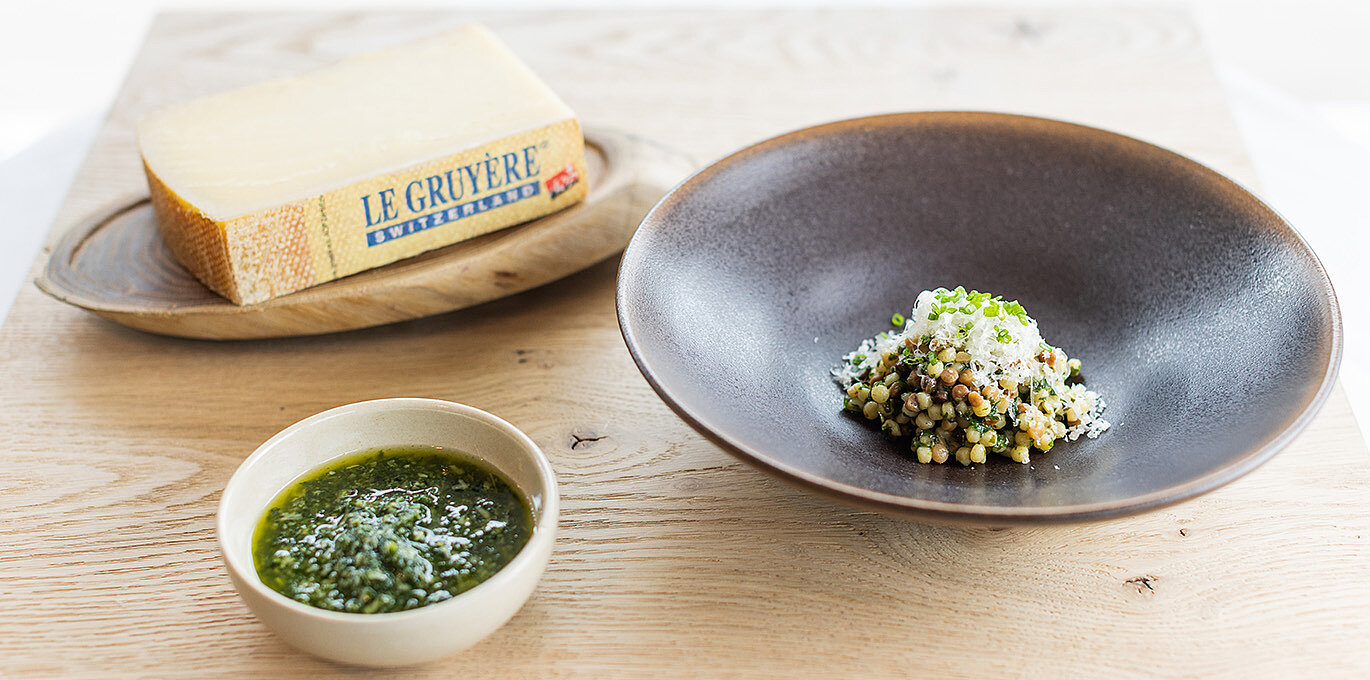 Ingredients for
Note
Attention changement nombre de personnes
Fregola Sarda
200 g

fregola sarda

60 g

butter

50 g

onion

5 g

garlic

50 ml

white wine

1 pinch

of pepper

1 pinch

of salt

500 g

chicken, chopped into small pieces

1 sheets

of laurel

100 g

Le Gruyère – aged minimum 11 months
Pesto
70 g

of fresh basil

30 g

of parsley

40 g

pine nuts

170 ml

olive oil

1 pinch

of pepper

1 pinch

of salt

60 g

Le Gruyère – aged minimum 11 months
Preparation
Fregola Sarda
Warm up the chicken or vegetable stock. Finely chop the onion and garlic and sauté in the butter until translucent
Add the Fregola Sarda, sauté together and season, deglaze with the white wine and reduce completely.
Add the bay leaf, then gradually add the stock while stirring continuously, as with a risotto.
Cook until 'al dente' and finally mix in the butter and grated Le Gruyère AOP Réserve.
Pesto
Roast the pine nuts until golden brown.
Wash and pluck the basil and parsley.
Put all ingredients except the olive oil into a mortar or blender.
During the mortaring or blending, pour in the olive oil slowly and finally season again and add more of the Gruyère AOP Réserve according to taste.