Le Gruyère AOP Fromadjades
50'
20'
Fromadjades are said to have been brought to Algeria by migrants from Mallorca, Minorca and Iberia.
Dreaming of distant generous shores, these travellers set sail from Ciutadella, Ferreries, Moll, Pons, Ferrer, Febrer, Gomila...
They left their lands to embrace Fort de l'Eau, Maison Carré and Le Ruisseau, emblematic places of Algeria. They brought with them their gastronomic customs, including their famous fromadjades.
These were small meat pies that were eaten at Easter or taken away with you.
I made a departure from tradition by replacing the pork with Le Gruyère d'Alpage AOP.
Welcome to the world of these tireless travellers who passed on their knowledge and their love of good food!
Enjoy!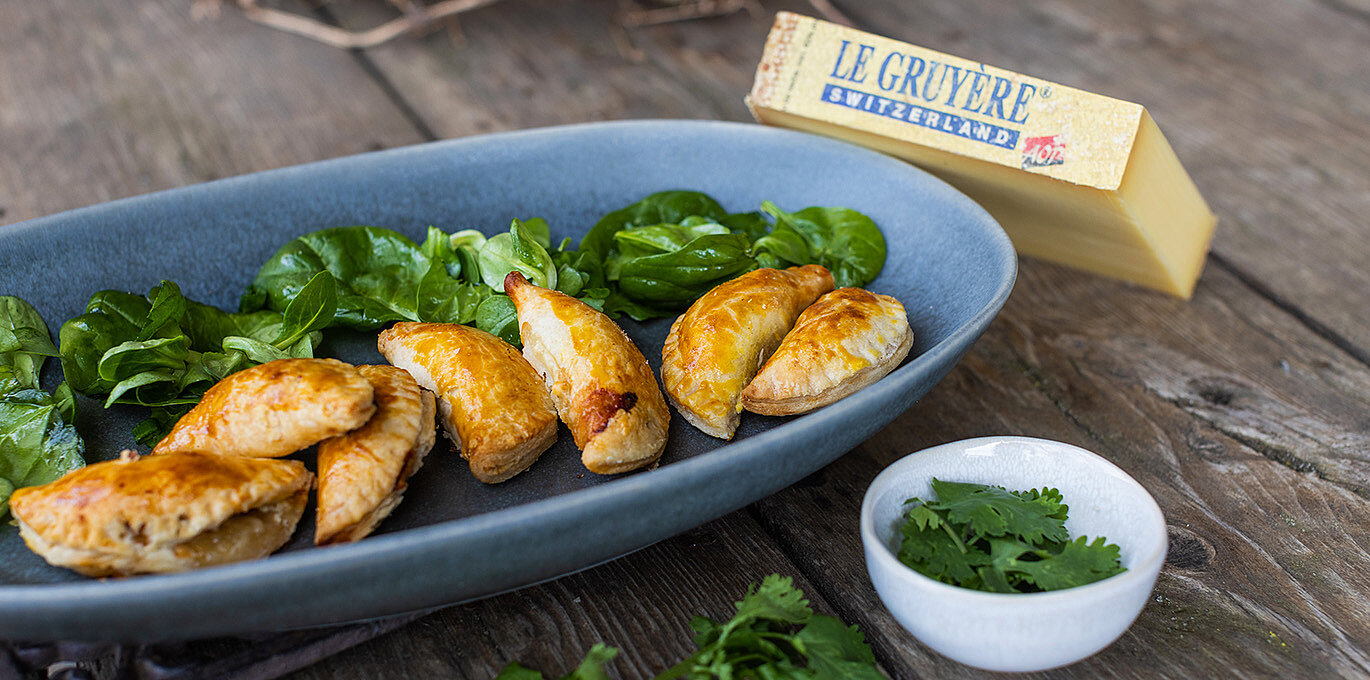 Ingredients for
Note
Attention changement nombre de personnes
Shortcrust Pastry
500 g

flour

200 g

lard

1 pinch

of baking powder

1 dl

water

1 pinch

of salt
Filling
200 g

chorizo

150 g

Le Gruyère d'Alpage AOP

250 g

Cooked lamb meat

1 tbsp

of lemon juice

1 tbsp

Ground cumin

1 pinch

of salt

1 pinch

of pepper

80 g

mesclun salad

20 g

egg yolk

1 tbsp

orange vinaigrette dressing
Preparation
Shortcrust Pastry
Mix all the ingredients and prepare a shortcrust pastry. Refrigerate for one hour.
Filling
Cut the sausage, the lamb and the Le Gruyère d'Alpage AOP into small cubes.
Mix together in a bowl.
Add the cumin and lemon juice. Mix well and leave to marinate for an hour. Season with salt and pepper.
Roll out the dough and cut out circles of about 10 cm in diameter.
Place a small amount of filling on half of the circles and fold the pastry over to form a half moon.
Crush the edges with a fork to seal them.
Brush with egg yolk.
Bake in a hot oven at 220° for 15 to 20 minutes.
Serve the fromadjades warm with the salad and the fresh sprig of parsley.