Le Gruyère AOP tourte
45'
35'
Did you know that the recipe for a tourte (pie) is very old?
In the Middle Ages, this recipe was used a lot, as it allowed different shapes to be made depending on what was inside. For example, they were made in the shape of a fish if there was fish in it; although this was not always true!
The shapes were very important: the circle had several functions, such as representing permanent rebirth, like a wheel that turns and reminds us of perpetual movement. Not having any angles avoided placing a point in front of a guest as this was considered aggressive at that time.
It is important to make the desired shape, but don't forget to cover the mixture with the other half of the pastry, otherwise it would not be a "Tourte" but a "Tarte".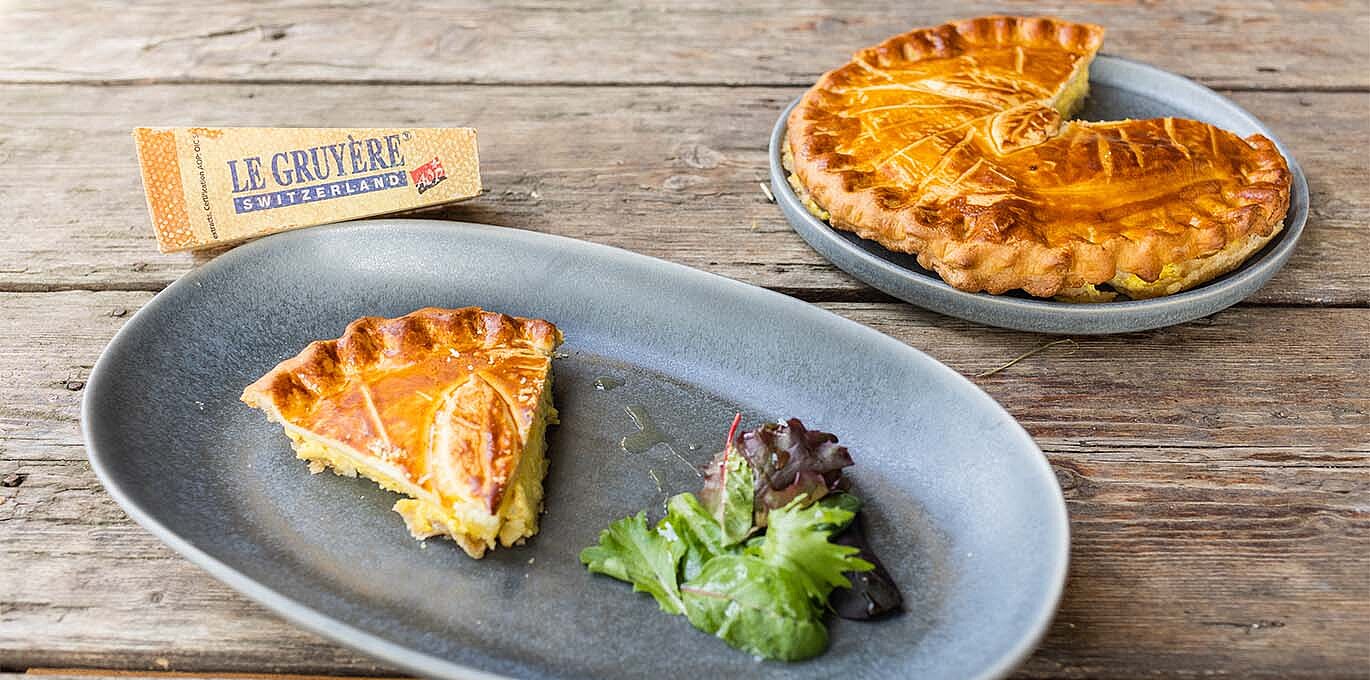 Ingredients for
Note
Attention changement nombre de personnes
300 g

all purpose flour

150 g

butter

100 ml

water

1 pinch

of salt

250 g

Gruyère AOP

3

eggs

2 dl

milk

1 dl

35% cream

1 pinch

freshly grated nutmeg

+

pepper

+

fresh herbes for decoration
Preparation
Dissolve the salt in warm water.
Crush the butter between your fingers and add it to the flour.
Add the salted water and mix until you have a dough without lumps.
Let it rest in a cool place and wash your hands well.
Place half of the shortcrust pastry, rolled out with a rolling pin, in a buttered dish or one with baking paper. Make nice, even edges. Keep the other half to cover your tourte.
Preheat the oven to 220°C and in a bowl break the eggs and add the milk and cream.
Mix well with a whisk.
Grate the Le Gruyère AOP and add it to the mixture together with the pepper and nutmeg.
Carefully place the mixture on top of the dough in the mould and then place the second part of the dough on top, crimping the edges to keep them neat. Have an adult help you if you need it.
Make a small hole in the centre of the top.
Brush the top with egg yolk and draw pretty pictures on it.
Bake for about 35 minutes depending on your oven and serve.
Delicious to know
Serve with a green salad.