Panna cotta with Le Gruyère AOP and red fruit coulis
10'
15'
Panna (cream) Cotta (cooked) welcomes our beloved Le Gruyère AOP in a half-salty, half-sweet recipe for an extraordinary dessert.
The history of panna cotta dates back to the 19th century in Piedmont, Italy. It is said that the first information about this dessert comes from a region called Les Langhe where a Hungarian woman imagined this recipe.
In the end, it doesn't matter where it came from. What interests us intrinsically is the universality of this dessert which has since travelled all over the world.
This version does not contain sugar per se. Mixing salt and sugar in the same recipe is not necessarily appropriate, but also, historically, sugar was rare and therefore a very expensive commodity. As a result, desserts were not as sweet as they are today, but were often accompanied by honey or slightly acidic red fruit, as in this recipe.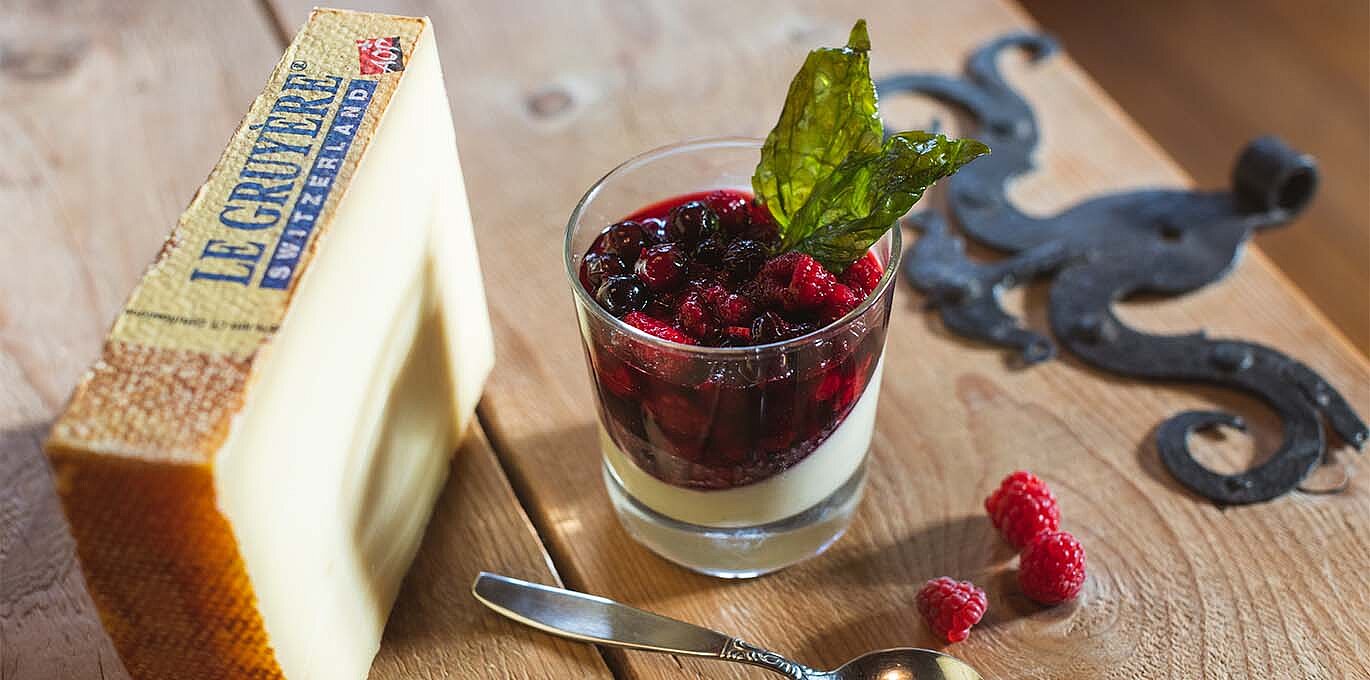 Ingredients for
Note
Attention changement nombre de personnes
Panna cotta
250 g

35% cream

100 g

Gruyère AOP

1

vanilla pod, split

1 tbsp

liqueur of choice

1.5 sheets

of gelatin
Red fruit coulis
1 dl

water

1 pinch

of lime zest

5 drops

of lime juice

100 g

of blueberries

100 g

of blackberries

4

edible flowers

4 sprigs

of basil or mint
Preparation
Panna cotta
Finely grate the Gruyère AOP and mix it with the cream.
Bring to a boil and then simmer until the Gruyère AOP is completely dissolved in the cream.
Add the vanilla pod.
Soak the gelatin sheets in cold water.
Add the liqueur according to taste.
Drain and add the gelatin sheets and mix with a whisk.
Pour the mixture into the verrines, tilting them. Place the tilted verrines on the empty egg tray.
Set aside in the refrigerator for several hours until the mixture hardens.
Red fruit coulis
Bring the water with the lime zest and juice to a boil. Add the fruit and allow to cool.
Divide the fruit with its juice among the hardened verrines.
Serve with an edible flower or a bunch of fresh herbs such as basil or mint.
Delicious to know
Use an empty egg tray or other container that can hold the verrines at an angle for serving.