Risotto with Gruyère AOP, Bonvillars truffles and candied tomatoes
15'
35'
Did you know that rice arrived in our country through the Arabs? Indeed, through their various political incursions, such as in Spain, or commercial ventures, such as in Sicily, they allowed this cereal to take its place in our gastronomic landscape.
We find rice as early as "Le Ménagier de Paris" around 1393 and information on the establishment of its cultivation in Italy in 1475. Its history was not a smooth one. It was not easy to find suitable places to grow it. There were not many rice fields and the climate was very specific. This is how rice came to be grown on the Po plains and in the Rhone delta. Today, there are three main types of rice: short grain, medium grain and long grain. Not to mention the parboiled rice created during the Korean War to provide more nutritional value to soldiers.
Nowadays, rice has become more than a simple food product. It has become an invitation to an emotional journey, through memories, through flavourful and rich blends, such as the one with Le Gruyère AOP.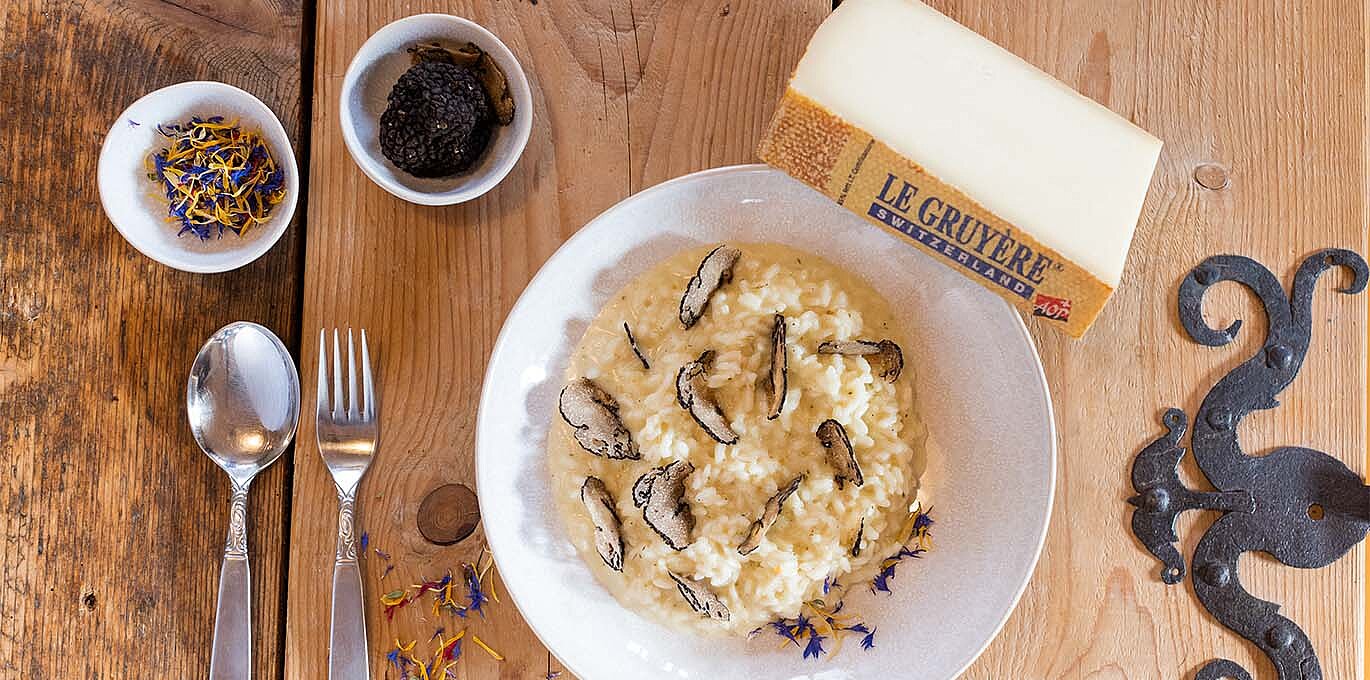 Ingredients for
Note
Attention changement nombre de personnes
Truffle butter (4 to 5 hours in advance)
40 g

butter

20 g

of Bonvillars (VD) truffles
Risotto
1 tbsp

butter

0.5

clove of garlic

300 g

of Arborio or Vialone rice

50 ml

white wine

850 ml

vegetable stock

150 g

Gruyère AOP

2 tbsp

35% cream

+

salt and pepper

1

Bonvillars (VD) truffle

4 sprigs

of chervil
Candied tomatoes
8

cherry tomatoes

2 dl

olive oil

+

salt and pepper

+

aromatic herbs
Preparation
Truffle butter (4 to 5 hours in advance)
Soften the butter and add the chopped truffle trimmings.
Leave in the fridge for 4-5 hours.
Risotto
In a fairly large saucepan, froth the butter over low heat.
Peel and chop the garlic, add to the butter and sauté until clear (without colouring).
Add the rice and make it pearly (i.e. pearl-coloured).
Add salt and deglaze with white wine, reduce to a dry consistency and add a little stock.
As soon as the risotto seems dry, continue adding more stock until all the stock is added.
Turn the burner to low and add the grated Le Gruyère AOP, mix well.
Stir gently until the Le Gruyère AOP is completely dissolved in the risotto.
Adjust the seasoning.
Candied tomatoes
Put the whole cherry tomatoes, washed and dried, including the stems, into the pan.
Cover with olive oil.
Season with salt and pepper and add aromatic herbs.
Simmer on very low heat. The tomatoes should be cooked and not still look "raw".
The oil should be very hot, but never boiling.
Serve the risotto in a soup plate adding the candied tomatoes and thin slices of truffles on top.
Delicious to know
Put the truffle in the rice in a closed container a few days before making the recipe. This will also give the rice its flavour before cooking. Cook on very low heat; this is the basic principle of a good risotto. To make very thin slices of truffles, use a vegetable peeler.