Le Gruyère AOP appreciated as far away as the Elysée Palace
These are particularly favourable times for Vincent Tyrode. His Le Gruyère AOP has been designated "2022 Cheese of Excellence" by the State Council of Vaud. A hard cheese which French President Emmanuel Macron had the opportunity to taste and appreciate thanks to Mr. Philippe Leuba, State Councillor of Vaud and advocate of local products. And that's not all: Vincent Tyrode is about to inaugurate his new cheese dairy, which includes a visitor's gallery where one can see how the Vacherin Mont d'Or AOP and Le Gruyère AOP are made.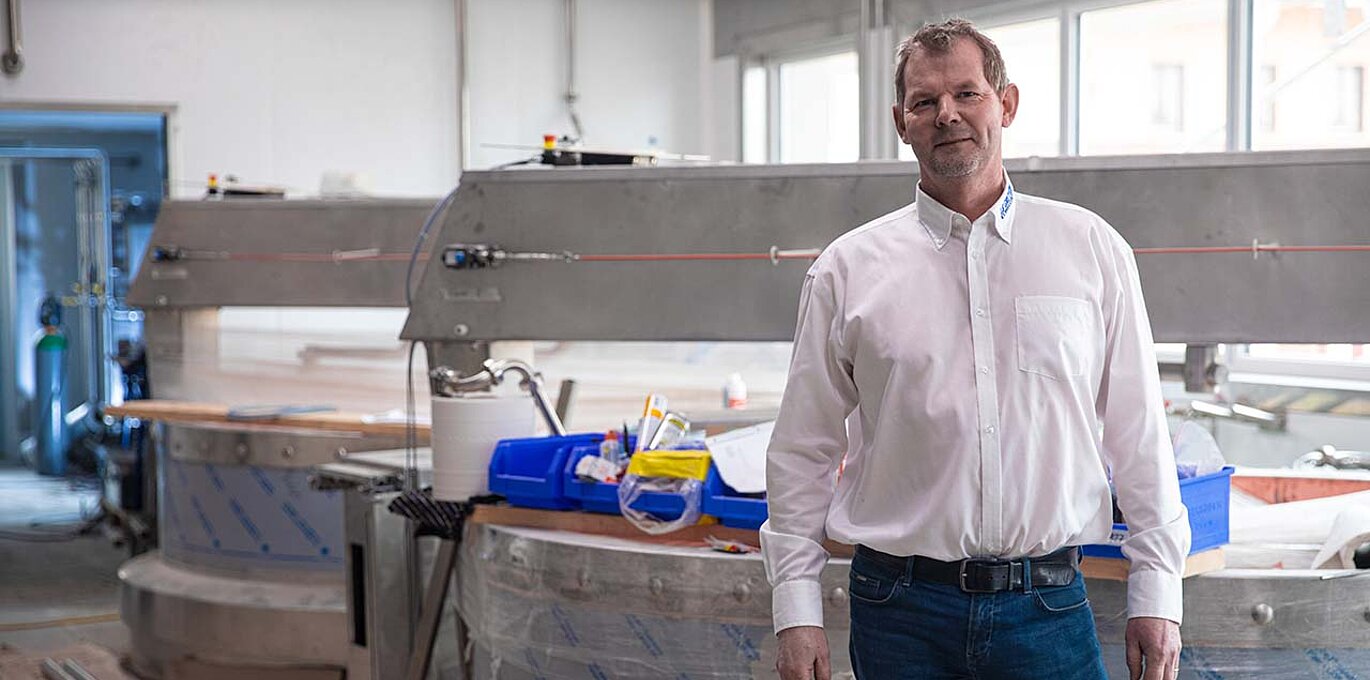 "If we want to keep trusted staff, we have to give them facilities they can be proud of."

Vincent Tyrode, cheesemaker at l'Auberson
At the end of last year, State Councillor Philippe Leuba sent the French President Emmanuel Macron a gift intended to delight his taste buds: Le Gruyère AOP and Vacherin Mont d'Or AOP from Vincent Tyrode, one matured in the Margot cellars in Yverdon and the other directly in the cellars of L'Auberson. He accompanied these cheeses with three bottles of the State Council's wine of honour: Clos du Châtelard, AOC Chablais, owned by Hammel SA and vinified by Charles Rolaz. Three months later, Mr Leuba drove to L'Auberson with a letter signed by Emmanuel Macron. It read: "I take this opportunity to salute the quality of these products which contribute to the reputation of Swiss gastronomy."
Vincent Tyrode arrived in Switzerland in 1997. For four years, he worked for Valentin Bielmann and, in 2001, he took over the cheese dairy as a milk buyer. "It wasn't customary to hire a Frenchman," recalls the cheesemaker. "However, the Société de laiterie de l'Auberson was very open and trusted me". Unfortunately, nine years later, a fire destroyed the entire cheese factory. This disaster provided an opportunity for the producers and the cheesemaker to rethink their approach. "In the end, I suggested becoming the owner of the premises, renovating the cheese dairy and working independently while respecting the AOP rules".
Originally from the Haut-Doubs, Vincent and his wife Bénédicte are in love with L'Auberson and the region, so much so that they have become Swiss. The fact remains that the cheesemaker's origin makes it easier to trade with France. "I know a number of the best workers in France who have creameries," he says, "and when I let them taste the fruits of our labour, they gladly offered it on their shelves."
Over the years, the cheese dairy has become too small. "For Le Gruyère AOP, we followed the development and we currently produce 200 tonnes per year. We have also greatly increased our production of Vacherin Mont d'Or AOP. We have a team of 10 people year round, with 25 during the Vacherin Mont d'Or production period."
The new cheese factory will therefore be bigger and have more efficient equipment. "If we want to keep trusted staff, we have to give them facilities they can be proud of." The new cheese dairy will also have a visitor's gallery and a multifunctional area to welcome the visitors.
Taking into account the very strict hygiene standards, Vincent Tyrode wants to show consumers how the two cheeses he loves are produced. "I like the rigour that is at the heart of our work. This Swiss rigour has enabled Le Gruyère AOP to achieve exceptional consistency and overall quality. If I go to the Rungis market and taste a Gruyère AOP from one of my cheese-making colleagues, it will certainly be excellent. It's an invaluable asset to be able to find that rich, inimitable taste every time."