Le Gruyère AOP at The World Championship Cheese Contest
Michael Spycher's Le Gruyère AOP wins 2nd consecutive World Championship Cheese Contest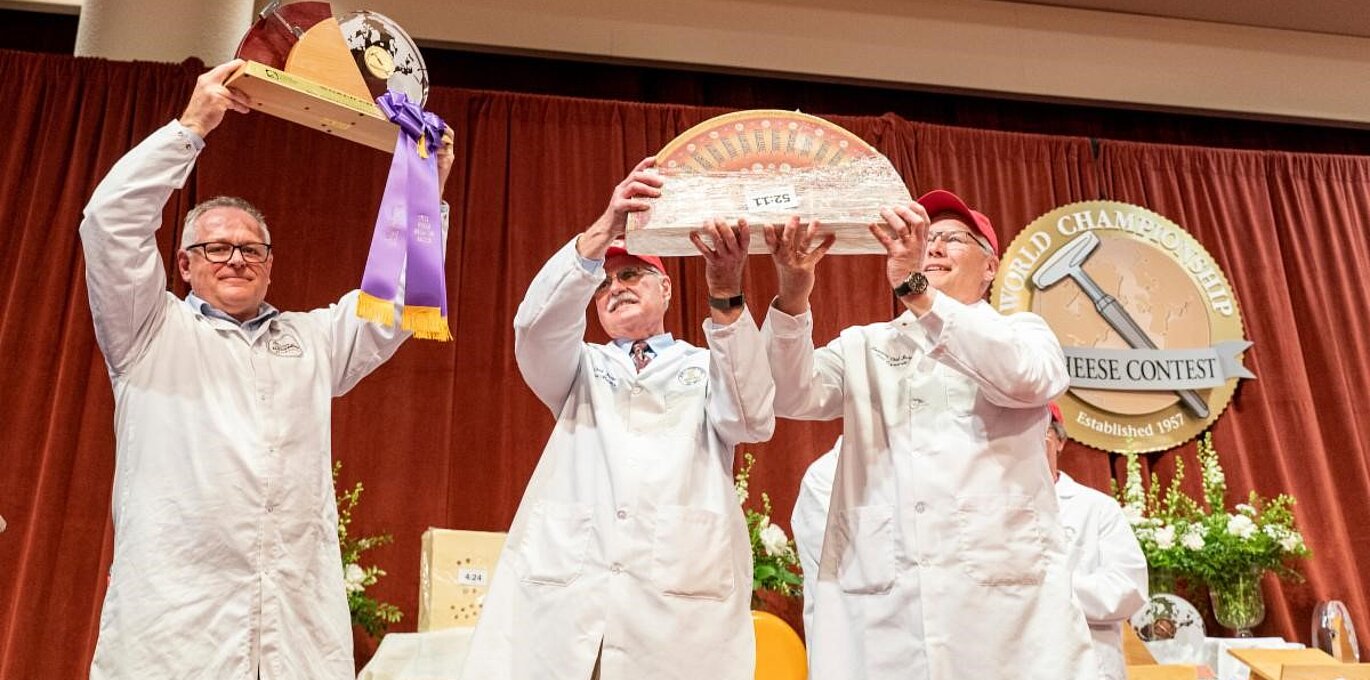 "When I saw that all 6 judges had nominated Michael Spycher's cheese for the grand finale, I thought that was an excellent sign!"

Roland Sahli, Managing Director of the Bernese cheese maturing company Gourmino
Michael Spycher's Le Gruyère AOP from the Fitzenhaus cheese dairy has been crowned the best cheese in the world at the World Championship Cheese Contest in Madison, Wisconsin (USA). An extraordinary feat, this is the second consecutive victory for the Emmental-based cheesemaker. In the USA, we spoke to Roland Sahli, Managing Director of the Bernese cheese maturing company Gourmino, who was a member of the jury and who also presented several cheeses, including that of the Fitzenhaus cheese dairy.
You were in Madison for this championship. What distinguished this competition?
This year there were only professionals. No public because of the pandemic. Therefore, the contest took place in a very serious atmosphere. The judges had to examine and taste almost 3,000 cheeses. For each of the 130 categories, the judges remained the same. For example, for Le Gruyère AOP, the same two professionals established the ranking. Personally, I was with an American judge and over the course of two days we examined and classified seven different categories. But of course no cheeses which were matured at Gourmino!
In the Le Gruyère AOP category, the ranking was awarded to Michael Spycher.
He is the owner of the Fritzenhaus mountain cheese dairy in Sumiswald. In second place was Michael Hanke's Le Gruyère AOP from the Combremont-le-Petit dairy and in third place was Erich Hunkeler's from the Sommentier dairy.
Coming back to the general competition, there is first of all a classification by type of cheese. After that, what is the procedure?
All the winning cheeses in each category are placed on 10 tables. Around each table there are 5 or 6 judges, who compare the products and choose the two best. I was at the table where Michael Spycher's Le Gruyère AOP was placed. When I saw that all 6 judges had nominated his cheese for the grand finale, I thought that was an excellent sign!
10 tables, two cheeses per table...so the jury had 20 cheeses that could claim the title of world champion!
Indeed, at this point, all the judges evaluated each product again, carefully following the professional criteria. And all their scores were taken into account to calculate the average for each cheese. Michael Spycher's Le Gruyère AOP came out on top with a score of 98.423 points out of 100.
This is the second time in a row that Michael Spycher has won and the third time in 8 competitions. Can you explain this performance?
First of all, he produces a very high quality cheese. What is also certain is that Le Gruyère AOP is a cheese that people like. Its taste and texture are widely appreciated. In fact, I have the impression that the Le Gruyère AOP which wins its category in the preliminary round of the competition has a good chance of shining in the final round.