Le Gruyère AOP wins the World Cheese Cup in Brazil
A great first for Le Gruyère AOP this past September in Saõ Paulo. Our hard cheese, still little known to the Brazilians, shone at the second edition of the Mundial do Queijo do Brasil. A total of 15 Le Gruyère AOP Réserve and 20 Le Gruyère AOP Classic cheeses took part in the competition. The result was more than pleasing: 31 Le Gruyère AOP left Brazil with prizes, including 3 super gold, 5 gold, 18 silver and 5 bronze. And the highlight of this cheese competition: Le Gruyère AOP Réserve from the Fromagerie de Rossens won the Brazilian World Cheese Competition. It was chosen by a jury composed of chefs, sommeliers, journalists and informed consumers.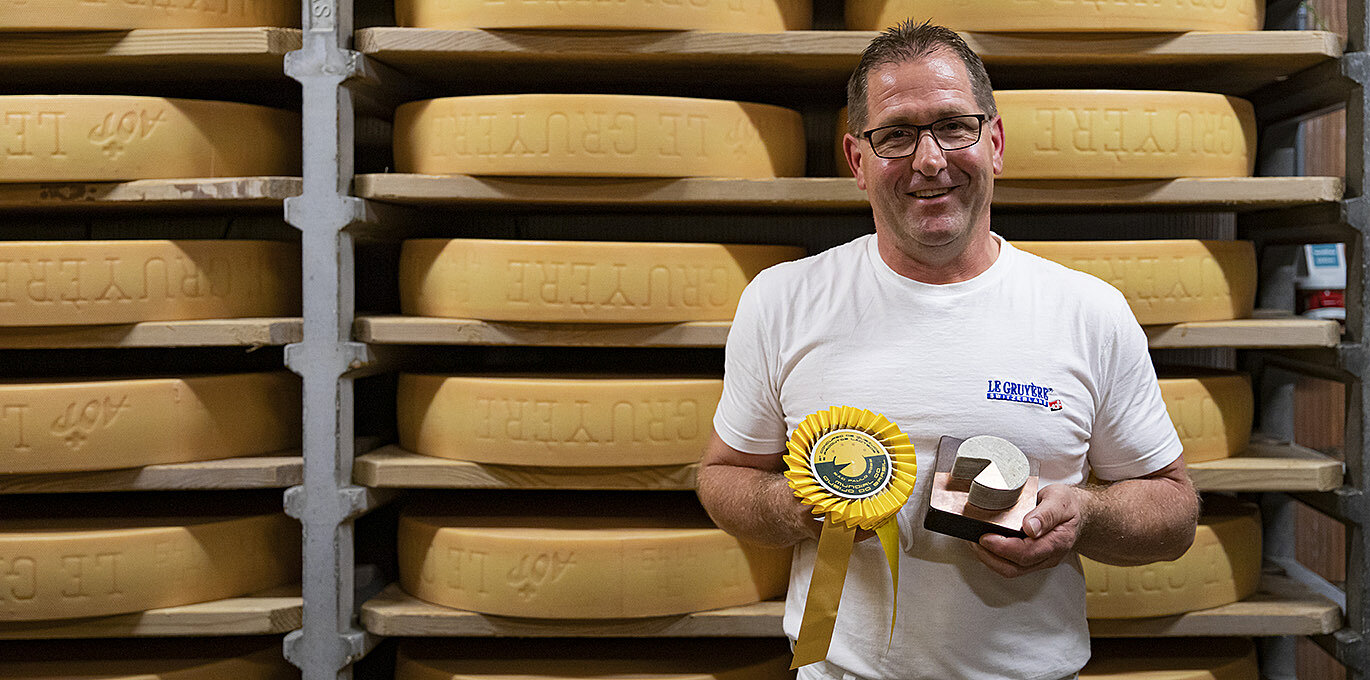 "I want to be present in the production process. That's my philosophy."

Vincent Guillet, cheesemaker in Rossens
Vincent Guillet of the Fromagerie de Rossens was very surprised when he read the congratulatory text message from a MIFROMA member. He did not know that his affineur had sent his Le Gruyère AOP to Sao Paulo to take part in this competition. He was obviously happy about this news, for him, for his team and for the whole chain, from his producers to his affineur, he explained. "I learned later that it was very complicated to export these cheeses, and to obtain the authorisations. MIFROMA wasn't sure we would be able to do it, but thanks to the support of the Interprofession, our cheeses arrived safely."
When asked about the strengths of his Le Gruyère AOP, he answered without hesitation: "We are lucky, our cheese ages well. It's supple, tender and pleasing. One likes this cheese that melts in the mouth, with grains of salt that appear over the months. I think that's our strength. But to win, you need to be very lucky!"
Vincent Guillet has known Le Gruyère AOP since he was a child. During the peak season, he used to go up to the La Vatia mountain pasture above Charmey with his family. He used to help his father who made Le Gruyère AOP. "I have always lived in this environment," he explains. "That's probably why I have a passion for this job."
Vincent has been working at the Rossens cheese dairy for 35 years. He did his apprenticeship in the old building, then continued in the company: "It was a good atmosphere. I was almost part of the family." At that time, the producers all had their own farms in Rossens. When the cheese dairy became dilapidated, the dairy company planned to build a new building. In 1991, the brand new cheese dairy opened its doors and at the same time welcomed producers from Farvagny-le-Petit, Magnedens and Treyvaux. The years passed and when the owner retired in 2021, Vincent Guillet took over the reins of the cheese dairy.
With three workers and an apprentice, Vincent Guillet processes 4 million litres of milk and produces 350 tonnes of Le Gruyère AOP per year. It is one of the biggest productions in the region. "I don't want to diversify into other products. Already in the time of my predecessors, we always kept this line to ensure the quality of our hard cheese. I don't want to disperse. I want to be present in the production process. That's my philosophy." It's a close-knit team that meets every morning at 5am to work. "When we all pull together, it's easier," says Guillet. This is why he is keen to pass on his passion for this trade to his apprentice who started last August. This young man has already obtained his Federal Certificate of Vocational Training (AFP). He would now like to continue by doing an apprenticeship. "Hats off to him," says the cheesemaker. "He has already done two years of training and now he wants to go further, because he loves this job. We have enough staff here to take the time to help him get his CFC."
Vincent Guillet is still full of surprises. A few days after the success of his Le Gruyère AOP at the competition in Brazil, he received two other prizes at the World Cheese Awards. He won a bronze medal for his 14-month-old Le Gruyère AOP and a silver medal for his 11-month-old Le Gruyère AOP. What a great autumn 2022!