Le Gruyère AOP a big winner at the World Cheese Awards
For the fourth time, Le Gruyère AOP has won first place at the World Cheese Awards in Newport, Wales. This year, Urs Leuenberger's Le Gruyère AOP Réserve from the Vorderfultigen cheese dairy was voted the best cheese in the world. The title was awarded at the Guild of Fine Foods World Cheese Awards in early November.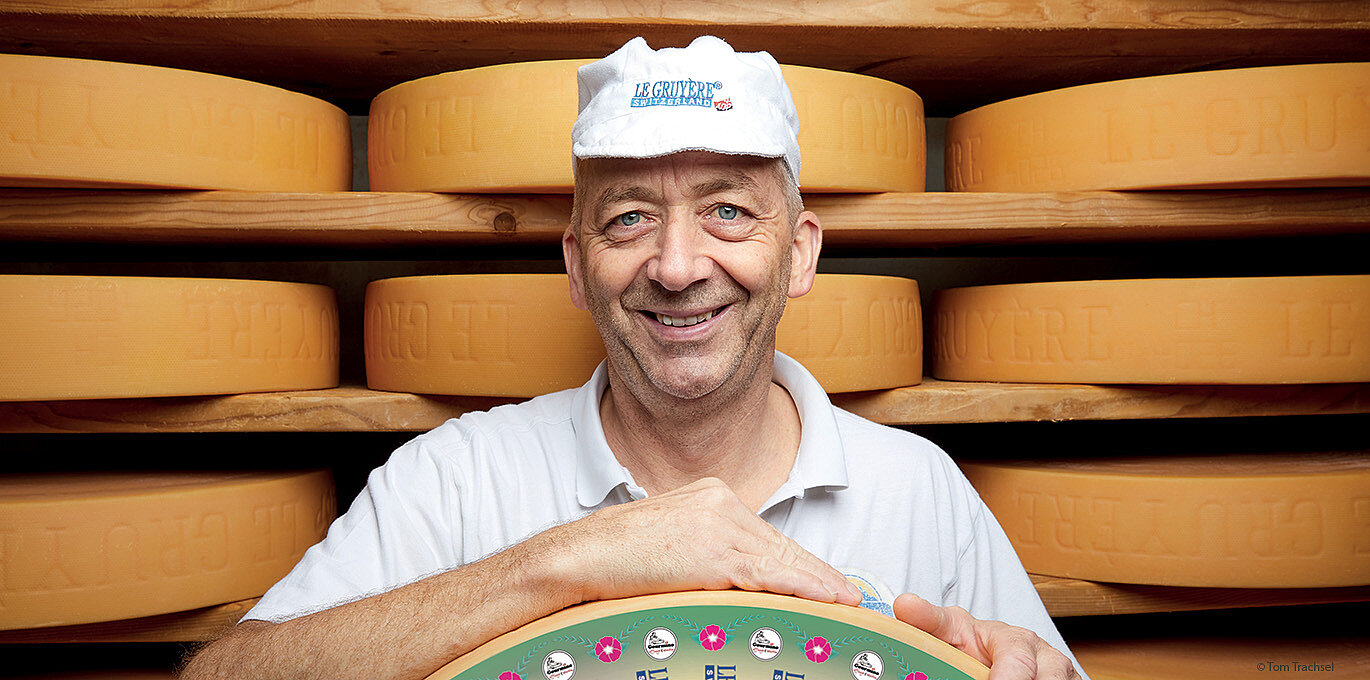 "I have to say that we are a very pleasant team and we all have quality as our core value."

Urs Leuenberger, cheesemaker from Vorderfultigen
Urs Leuenberger's Le Gruyère AOP Réserve was the winner among the 4,434 cheese specialities that took part. Matured by Gourmino, it was chosen for its taste and aesthetic qualities. John Farrand, Chief Executive of the Guild of Fine Food, said: "Crowning Le Gruyère AOP as this year's World Cheese Champion is very much deserved. The judges in the room today, our cheese experts from around the world, were clearly blown away by the quality of this noble cheese." Denis Kaser, Head of International Marketing for Le Gruyère AOP, said he was proud to represent Le Gruyère AOP, a cheese so appreciated by consumers both at home and abroad.
Urs Leuenberger from the cheese dairy in Vorderfultigen said: "Gourmino informed me a month and a half before the competition that one of my cheeses would be entered. But I didn't know when the World Cheese Awards took place. So I was very surprised when I heard that I had won the title. I didn't immediately understand what it meant. It's hard to imagine such an achievement! My initial feeling was pride and recognition for the great teamwork we do with the producers and my employee."
Anecdotally, Urs Leuenberger notes that it was a colleague who tipped him off. The colleague was following the competition on the internet and sent him a message to congratulate him. "I wondered what he was talking about," the cheesemaker smiles. A few minutes later, Roland Shali, director of Gourmino, called him to officially announce the news.
At the cheese dairy in Vorderfultigen, the work remains very traditional. The 77 tonnes of Le Gruyère AOP produced each year are made by two people, and in the cellar, the care is done by hand using a semi-automatic machine. "We produce 6 to 7 wheels of cheese a day and we keep our cheeses in the cellar for about two months. I don't have enough space to keep them longer." Urs Leuenberger, on the other hand, has a very small cellar in which he keeps and cures 3-4 wheels of cheese each month for sale to the cheese dairy's customers. "Normally, this monthly quantity is more than enough... but for the past few weeks, I'm not so sure!" he laughs!
What characterises his cheese? "We are at an altitude of 800 metres, in an exclusively agricultural region. The flora is rich. This certainly contributes to the good taste of our Le Gruyère AOP. And then, the 8 producers who deliver their milk are all located in a very small circle, about a kilometre away. I have to say that we are a very pleasant team and we all have quality as our core value."
This title is a great reward for the local dairy company chaired by Mr. Burren and a real consecration for Mr. Leuenberger who will retire on December 31 of this year. Pius Hitz will take over as the new Vorderfultigen cheesemaker from January 2023.