Winch style Cordon Bleu with Gruyère AOP
20'
10'
In conjunction with our partner Label Fait Maison, we offer you Gruyère AOP recipes created by the chefs in various labeled restaurants.
This recipe is proposed by A la petite Auberge restaurant in Bioley-Magnoux.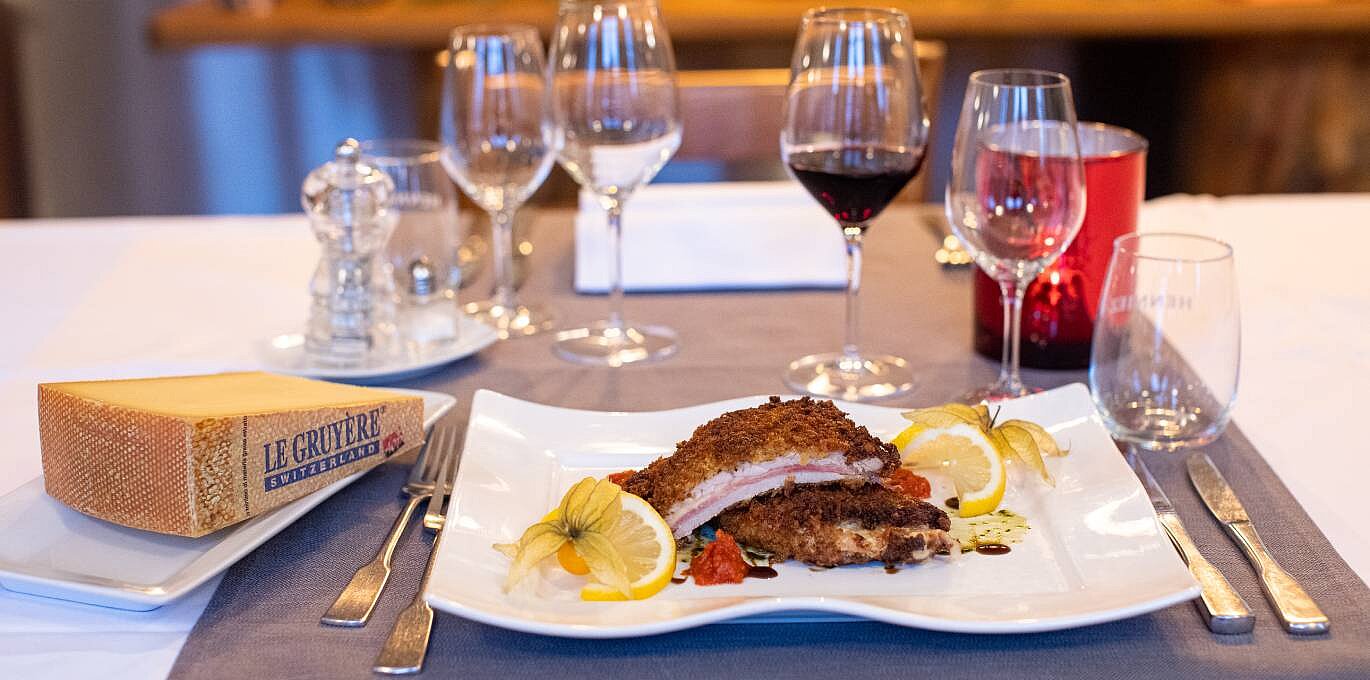 Ingredients for
Note
Attention changement nombre de personnes
800 g

boneless pork rack

200 g

thin sliced smoked country ham

320 g

sliced or grated Gruyère AOP

300 g

Panko (Japanese breadcrumbs)

4 tbsp

Dijon mustard

2

eggs

1 tbsp

butter

+

olive oil

+

salt and pepper
Preparation
Slice and butterfly the pork rack into 4 large cutlets.
Protecting the cutlets with a plastic film, pound and flatten them with a mallet or with the bottom of a heavy pot.
Brush each with a tablespoon of Dijon mustard.
Insert the thin slices of smoked country ham.
Add the slices of Gruyère AOP, or follow the chef's tip and use grated Gruyère AOP, (easier to shape).
Fold the cutlet around the stuffing and flatten with your hand to close it firmly.
Season one side only with salt and pepper.
Prepare 2 bowls, one with the beaten eggs and the other with the Panko.
Dip the cordon bleu into the beaten eggs, drain any excess and then coat with the Panko breadcrumbs. Press with the palm of your hand to help the breadcrumbs stick well.
Preheat a frying pan with olive oil and one tablespoon of Swiss butter.
Brown both sides of the cordon bleus on high heat. Then lower the heat, cover and cook for an additional 7 minutes or until thoroughly cooked.
Delicious to know
Serve with a slice of lemon and your preferred side dish, e.g. tagliatelle noodles, matchstick chips, or a vegetable risotto accompanied with a fresh salad.